Timing & trends
Inflation [ɪnˈfleɪʃ(ə)n]
Noun
the action of inflating something or the condition of being inflated. "the inflation of a balloon"
a general increase in prices and fall in the purchasing value of money. "policies aimed at controlling inflation"
Hobby [ˈhɒbi]
Noun
an activity done regularly in one's leisure time for pleasure. "her hobbies are reading and gardening"
Hobby horse [ˈhɒbi hɔː(r)s]
Noun
a child's toy consisting of a stick with a model of a horse's head at one end.
a preoccupation or favourite topic. "Brennan admits that the greenhouse effect is a hobby horse of his"
Yesterday's FOMC meeting, very much as expected, made clear that US rates are on hold until the end of 2023 at the very least, even as the economic projections were actually upgraded relative to the depths they plunged to in June. (Indeed, Q3 GDP is still apparently tracking above 30% q/q annualized.) For Philip Marey's coverage of the meeting, please see here.
In short, the Fed, like all central banks, does not understand inflation and cannot control it to either the upside or the downside of any possible target over any credible timeframe. Indeed, it no longer seems to have a theory of inflation: inflation just is; or rather isn't. We can therefore expect rates to be on hold longer than just flagged. And not just in the US, of course. Japan and Europe, the UK, Australia, and New Zealand – all face the same fate. Zero (or lower) rates and zero ideas about how things will get better.
Emerging markets like Brazil have also moved rates to incredibly low levels. Several are already monetizing debt too. The only major central bank that is not openly easing is China, where 'rates are set' in three days as per the new normal: but that is only because the level of rates doesn't matter in traditional market terms (look at the USD500bn in new lending in August); which is now true in the West too, just at a lower nominal level, at least until deflation kicks in, and with none of the same kind of finesse. They have de facto state planning with a market on top: we have state planning with no plan and markets always coming out on top.
Of course, these views are a favorite hobby horse here. Yet after the Fed has made clear what we had long expected to eventually happen, let me offer some suggestions of worthwhile hobbies for central banks and those who watch them to more usefully spend their time on for the next five years:
3D printing (which they do already); Acrobatics ; Acting; Amateur radio (all three are already normal at their press conferences); Animation (they have little of that); Aquascaping (well, liquidity is their thing); Astrology (see their economic forecasts); Astronomy (they are space cadets); Baking (failure into the cake); Baton twirling (for sure!); Blogging (absolutely, and boringly).
Building (not so much); Board/tabletop games (Dungeons & Draghis); Book discussion clubs (try Kalecki); Book restoration (their copies of Friedman and Hayek are tatty); Bowling (they can't pick up that spare); Brazilian jiu-jitsu (they don't lack muscle, just brain); Breadmaking (for the 1%); Bullet journaling (they are out of them); Cabaret (I can almost see Lagarde open the next ECB meeting with the appropriately fin-de-regime "Willkommen, bienvenue, welcome": yet note that movie then descends to the always-terrifying "Tomorrow Belongs to Me" **Shudder**).
Calligraphy (make their irrelevance look pretty); Candle making (to not light in the darkness); Candy making (for the 1%); Car fixing & building (outsource it!); Card games (3-card Monty); Cardistry (see press conferences); Cheesemaking (so, so much cheese); Cleaning (this is a hobby?!); Clothesmaking (offshore it!); Coffee roasting (more millennial barista jobs!); Collecting (financial assets); Coloring (green, not red); Computer programming (algos!); Confectionery (for the 1%); Cooking (the books); Cosplaying (which is what this whole sham is, just in the drabbest possible costumes); Couponing (which millions are relying on); Craft(y); Creative writing (not the RBA, obviously); Crocheting (see forecasting); Cross-stitch (see FX forecasting); Crossword puzzles (see central bank minutes); Cryptography (see previous); Cue sports (think 'The Hustler').
Dance (anything that gets actual circulation going would be good); Digital arts (cryptos!); Distro Hopping (fiddling with computers: HFT); DJing (they only have one tune: "The sun will come out tomorrow"); Do it yourself (which is what we will eventually see governments return to as policy); Drama (of the drawn-out, tragi-comic variety); Drawing (see dot plots); Drink mixing (toxic cocktails); Drinking (and boy are they driving us all to that!)
That just covers A-D. But don't worry, I have five years of the Daily to kill before a rate hike – we will get to the rest.
Of course, the Fed did make clear that the way to avoid me having to write about Zumba is for the government to spend more money, which they will then monetize (even if they won't say so out loud). On that front, US President Trump is now all in favor of thinking big, reportedly backing at least USD1.5 trillion in further stimulus, and noting "…it all comes back to the USA anyway (one way or another)".
Which it actually does, apart from the portion that flows to all the countries that produce things that you used to make yourself. So do we have an evolving pro-MMT position from the White House by any other name? That is another hobby horse here, but a discussion with far more relevance to markets than anything major central banks will, or rather won't, be doing in the next few years. Indeed, imagine the US reflating but not letting those USD flow out to others: and isn't that what China is trying in some ways and is being cheer-led?
Yesterday I was bombarded with more articles, comments, graphs, data and YouTube links following a Morning Porridge than ever before. I made a conscious effort to check as many as I could out.  Some of them were excellent. Some less so. There is still an awful lot of badly-written unsupported conspiracy-theory corona-denial out there. There is some very good fact-based commentary. There is plenty of data and good science – and I missed much of it till y'day!
I've put together a list of some YouTubes to watch and articles to read at the bottom.
My conclusion is simple. The evidence shows the coronavirus is not what we feared it might be. It is not the Medical Armageddon we closed down our economy to avoid. As a result we just hot our Economy in the foot. Lockdowns probably achieved very little – aside from wrecking whole swathes of industry, business and commerce.
Covid-19 is serious, it makes many people very ill, and it has culled large number of vulnerable people. Many people remain in danger. But it is not the Big One. It is not a repeat of the 1918 Spanish Flu or the Black Death. The story of the Novel Coronavirus Pandemic started with the assumption it was going to be a global disaster killing millions, but it's turned out to be something very different and less threatening.
We should be thankful for that. The Big One is surely still coming. What we've experienced over the last months allows us to figure out what worked and what didn't for next time. Hopefully we can face the tragedy and challenges of the next real pandemic without creating economic misery as well. At some point mankind will accidently unleash a new SARs or other virus that could kill millions. COVID-19 wasn't the killer we thought it might be.
But…. READ MORE
Looking at the key market events this week, central banks take center stage, with a raft of policy announcements due from around the world. The highlight will come from the Federal Reserve on Wednesday, though we'll also get decisions from the Bank of Japan and Bank of England (both on Thursday), as well as a number of EM central banks. Meanwhile as DB's Jim Reid writes, attention will remain on Brexit, as the UK government's incendiary Internal Market Bill is debated in the House of Commons this week. And in Japan, a new Prime Minister will be chosen following Shinzo Abe's resignation.
Starting with the FOMC meeting on Wednesday, this is the first monetary policy decision since the virtual Jackson Hole symposium, at which it was announced that the committee's longer-run goals and monetary policy strategy would be updated. In terms of the major changes, the Fed now "seeks to achieve inflation that averages 2 percent over time", which would allow inflation to overshoot the target following a period of undershooting. It also changed the wording around its maximum employment objective, now saying that policy will be informed by its "assessments of the shortfalls of employment from its maximum level." According to Deutsche Bank economists the release opened the door to adjustments in forward guidance and asset purchases at this meeting, though in a close call, they expect the Fed's forward guidance on interest rates to remain unchanged and for the Committee to reframe their asset purchases as being focused on providing accommodation, not aiding market functioning. This meeting will also see the release of a new Summary of Economic Projections, which will include the first 2023 dot plot.
Meanwhile, in the UK there are likely to be a number of headlines this week, most notably on Brexit. That follows an escalation in tensions between the UK and the EU last week after the UK government published their Internal Market Bill, which seeks to override parts of the already-signed Withdrawal Agreement with the EU. In response, the EU called on the UK to withdraw these measures from the draft bill by the end of the month, and threatened to use legal remedies if the Withdrawal Agreement were violated. In terms of what happens next, today the bill will receive its first debate in the House of Commons, but the question will be how many Conservative MPs rebel on the matter, with last night seeing the former Conservative Attorney General Geoffrey Cox publish an article in The Times, saying that the bill would do "unconscionable" damage to the country's international reputation.
Staying with the UK, attention will also be on the Bank of England on Thursday, who'll be making their latest monetary policy decision. The base case per DB is that there won't be a further £60bn QE package until December, though there are risks of an earlier announcement at the November meeting. Keep an eye out in case there's a voting split between the MPC's 9 members as some might seek additional stimulus.
Turning to Japan, this week sees the election of a new Prime Minister following Shinzo Abe's decision to stand down for health reasons. In terms of the process, the ruling Liberal Democratic Party will gather today to elect a new Party President, for which the Chief Cabinet Secretary Yoshihide Suga is regarded as the frontrunner. Following the LDP's election, the Diet will then hold an extraordinary session on Wednesday to elect a new Prime Minister, with the new cabinet expected to be announced on the same day. Against this backdrop, the Bank of Japan will also be holding its latest monetary policy meeting next week, with our economist expecting that the bank will maintain its current policy stance.
Finally on the data front, there are a number of interesting releases. In the US, we'll get an increasing amount of hard data for August, including industrial production, retail sales, housing starts and building permits.  It'll also be worth keeping an eye on the more topical releases however, especially with last week's data on initial jobless claims and continuing claims having disappointed.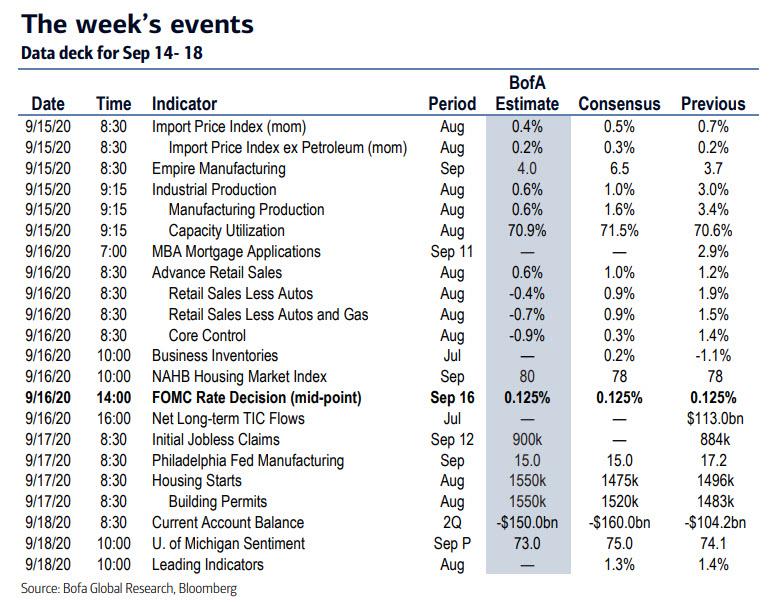 Separately, we'll also get some major releases from China on Tuesday, including August's industrial production and retail sales figures.
Below is a day-by-day calendar of events, courtesy of Deutsche Bank
Monday
Data: China August new home prices, Japan July tertiary industry index, capacity utilisation, final July industrial production, Bank of France August industry sentiment indicator, Euro Area July industrial production
Politics: Japan's LDP hold leadership election
Tuesday
Data: China August industrial production, retail sales, UK July unemployment rate employment change, average weekly earnings, France final August CPI, Italy final August CPI, Germany September ZEW Survey, Canada July manufacturing sales, August existing home sales, US September Empire State manufacturing survey, August import price index, industrial production, capacity utilisation
Wednesday
Data: Japan August trade balance, UK August CPI, Euro Area July trade balance, US weekly MBA mortgage applications, August retail sales, July business inventories, foreign net transactions, September NAHB housing market index, Canada July international securities transactions, August CPI
Central Banks: Monetary policy decisions from the Federal Reserve and the Central Bank of Brazil
Politics: Extraordinary Diet session in Japan to elect Prime Minister
Thursday
Data: EU27 August new car registrations, Italy July trade balance, Euro Area final August CPI, US August building permits, housing starts, September Philadelphia Fed business outlook, weekly initial jobless claims
Central Banks: Monetary policy decisions from the Bank of Japan, Bank of England, Bank Indonesia and the South African Reserve Bank, ECB's Rehn speaks
Friday
Data: Japan August nationwide CPI, UK August retail sales, Germany August PPI, Euro Area July current account balance, Italy July current account balance, industrial sales, industrial orders, US Q2 current account balance, August leading index, preliminary September University of Michigan consumer sentiment index, Canada July wholesale trade sales, retail sales
Central Banks: Central Bank of Russia monetary policy decision, Fed's Bullard speaks
* * *
Finally, looking at just the US, the key economic data releases this week are the industrial production report on Tuesday, the retail sales report on Wednesday, the jobless claims report and Philly Fed manufacturing survey on Thursday, and the University of Michigan consumer sentiment survey on Friday.
Monday, September 14
There are no major economic data releases scheduled.
Tuesday, September 15
08:30 AM Empire State manufacturing index, September (consensus +6.5, last +3.7)
08:30 AM Import price index, August (consensus +0.5%, last +0.7%); Export price index, August (consensus +0.4%, last +0.8%)
09:15 AM Industrial production, August (GS +0.9%, consensus +1.0%, last +3.0%); Manufacturing production, August (GS +1.3%, consensus +1.6%, last 3.4%); Capacity utilization, August (GS 71.4%, consensus 71.5%, last 70.6%): We estimate industrial production rose by 0.9% in August, reflecting weaker mining and utilities production. We estimate capacity utilization rose by 0.8pp to 71.4%.
Wednesday, September 16
08:30 AM Retail sales, August (GS +1.5%, consensus +1.0%, last +1.2%); Retail sales ex-auto, August (GS +1.4%, consensus +0.9%, last +1.9%); Retail sales ex-auto & gas, August (GS +1.4%, consensus +0.9%, last +1.5%); Core retail sales, August (GS +1.0%, consensus +0.3%, last +1.4%): We estimate that core retail sales (ex-autos, gasoline, and building materials) increased by 1.0% in August (mom sa), reflecting continued increases in consumer spending indicated by credit card and other high-frequency data, but weaker clothing sales due to fewer students returning to school. We expect relatively stronger gains in restaurants, gas station, and auto sales, and estimate a +1.5% increase in headline and a +1.4% increase in the ex-auto measure.
10:00 AM NAHB housing market index, September (consensus 78, last 78)
02:00 PM FOMC statement, September 15-16 meeting: As discussed in our FOMC preview, we expect the FOMC to modify its post-meeting statement to recognize the changes to the Statement on Longer-Run Goals and Monetary Policy Strategy announced by Fed Chair Powell on August 27. We expect the Summary of Economic Projections to show large upgrades to growth and unemployment forecasts given the positive data since the last meeting, but expect the dot plot to continue to show a baseline of no rate hikes through the end of the forecast horizon. We think changes to the forward guidance or asset purchase programs are most likely to come at the next meeting in November.
Thursday, September 17
08:30 AM Housing starts, August (GS -3.0%, consensus -1.4%, last +22.6%); Building permits, August (consensus +2.5%, last +18.8%): We estimate housing starts declined by 3.0% in August. Our forecast incorporates a boost from lower mortgage rates but a likely drag from mean reversion in the noisy multifamily category.
08:30 AM Philadelphia Fed manufacturing index, September (GS 12.0, consensus 15.0, last 17.2): We estimate that the Philadelphia Fed manufacturing index declined by 5.2pt to 12.0 in September, reflecting softer business confidence measures.
08:30 AM Initial jobless claims, week ended September 12 (GS 825k, consensus 850k, last 884k); Continuing jobless claims, week ended September 5 (consensus 13,000k, last 13,385k): We estimate initial jobless claims fell to 825k in the week ended September 12.
Friday, September 18
08:30 AM Current account balance, Q2 (consensus -$160.0bn, last -$104.2bn)
10:00 AM University of Michigan consumer sentiment, September preliminary (GS 75.5, consensus 75.0, last 74.1): We expect the University of Michigan consumer sentiment index to increase by 1.4pt to 75.5, reflecting better virus news and a further rebound in our GS Twitter Sentiment Index.
Source: Deutsche Bank, Bank of America, Goldman
If remote work has you missing your daily Starbucks cold brew (with 8 shots of espresso), you aren't alone.
According to the coffee colossus, COVID-19 — and the related fall in foot traffic — led to a revenue decline of $2.3B last quarter.
As highlighted by Medium's Steve LeVine, Starbucks is only one data point in a much bigger story: the destruction of the multitrillion-dollar office support economy.
From airlines to Starbucks, a massive part of our economy hinges on white-collar workers returning to the office   Full Story
The average human life span is clearly on the increase, with the United Nations predicting there will be 3.7 million people over 100 (centenarians) by the year 2050.  Many developed countries are reporting more supercentenarians every year, they being people over the age of 110.  Since 1900 the average human life expectancy has risen from 31 years to 72 years, more than a twofold increase.  The oldest of all is in Japan – Kane Tanaka at 117 years old.  Japan is a standout country for supercentenarians, having well over 100 of them.  Given the increasing average life expectancy over the last century, and the development of life saving and life prolonging technology, is there truly a finite upper limit on how long a human can live?  There are some who claim that there are people alive today who could reach the age of…Click for complete article.
'Chinese firms are learning a painful lesson': India's app crackdown opens doors for U.S. tech giants.
On Wednesday, India banned 118 Chinese apps including major hit games from Tencent and NetEase as well as services from the likes of Baidu and Alibaba affiliate Ant Group.
The broader crackdown on Chinese technology opens opportunities for U.S. technology giants like Facebook and Apple in India.
One analyst said Washington and New Delhi "may foster one of the most important relationships in the 21st century."