Op/Ed
New All-Time Highs for the leading stock indices – but "rotation" rules.
The S+P and the DJIA came roaring back and hit new All-Time highs after that tiny 6% dip in September (capital flows show that retail and hedge funds Bought-The-Dip), but the tech-heavy Nasdaq and the small-cap Russell fell short of making new highs. The Transports and the TSE smoked the other indices.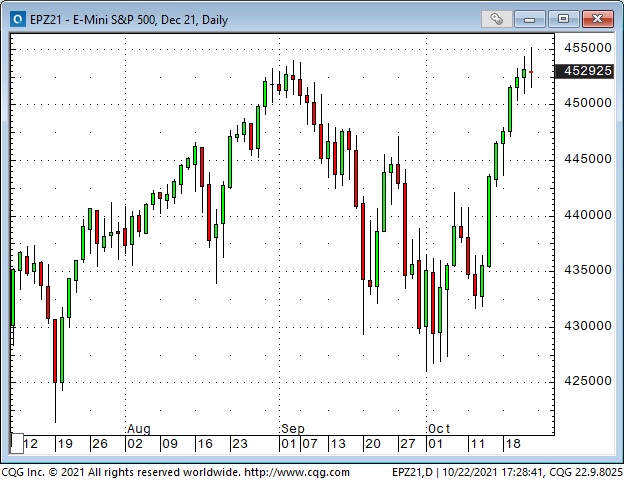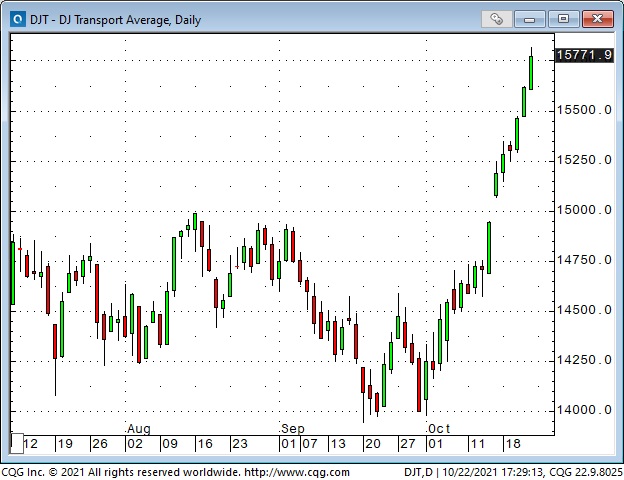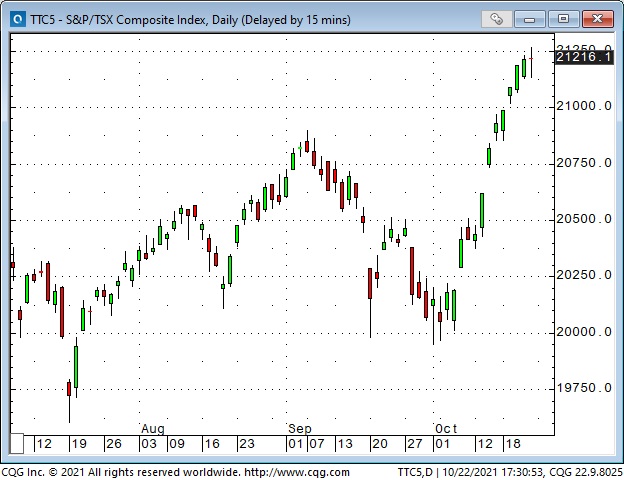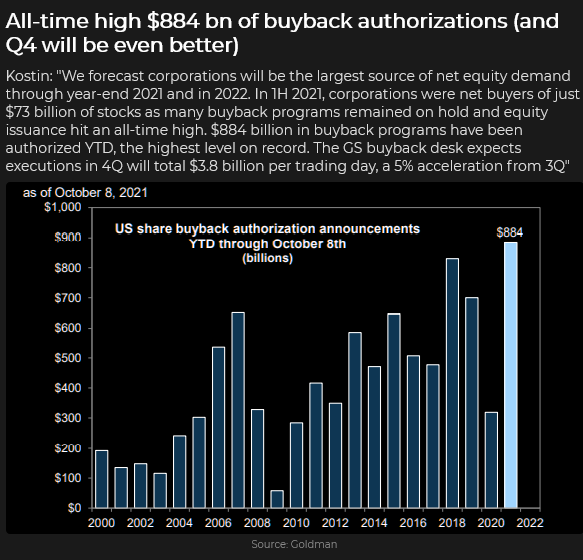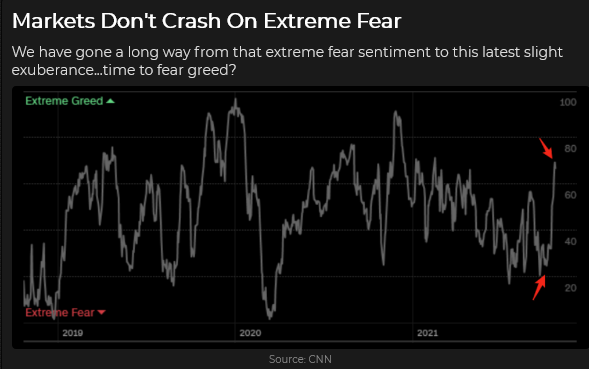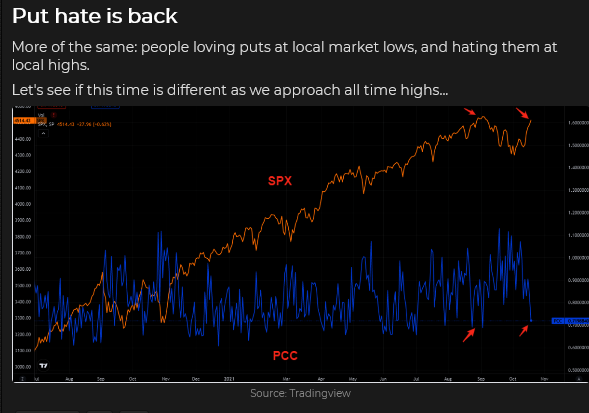 Energy markets continue to rip higher – Crude oil, Gasoline, Heating oil and Uranium are at 7-year highs.
WTI has risen for nine consecutive weeks.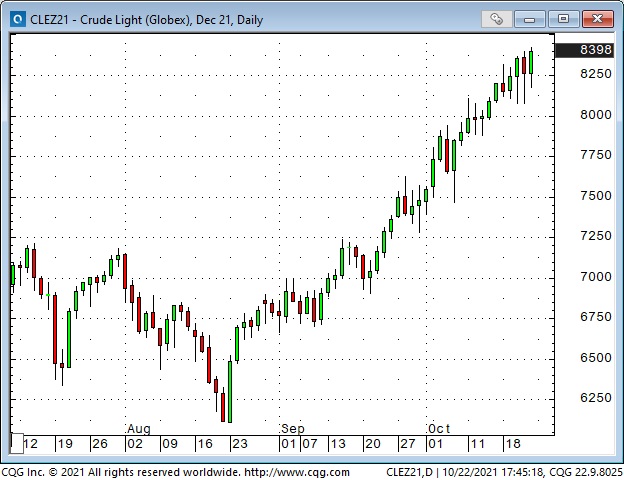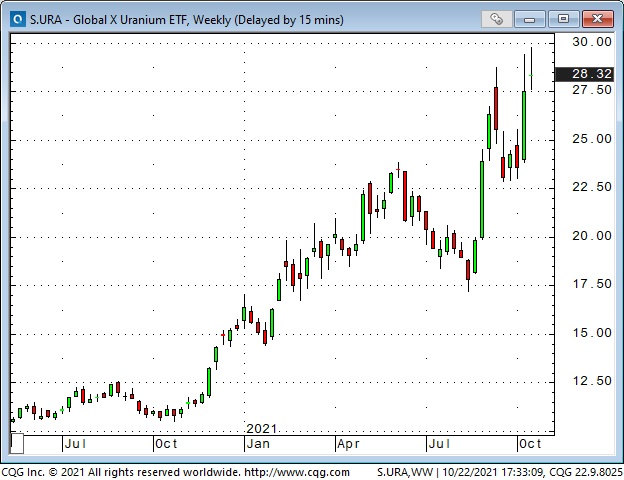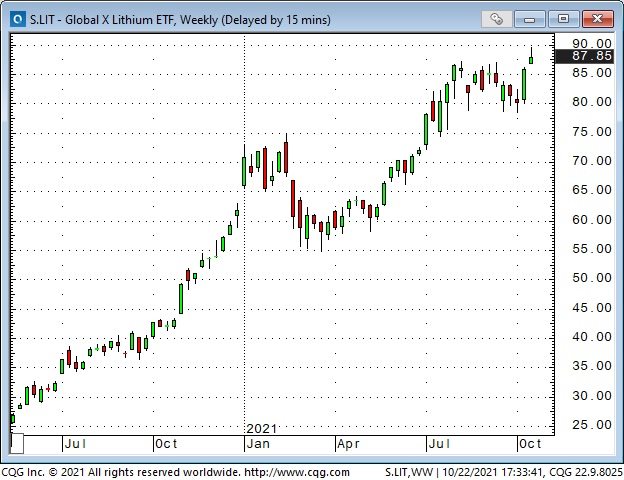 Something big is happening in the WTI forward curve.
The premium of front-month WTI has soared over the deferred months while the entire backwardated curve has steepened. Is this caused by shortages of physical WTI for near-immediate delivery? Is it due to speculators concentrating their buying in front-month contracts? Is it a sign that margin clerks are lifting every offer they can find to liquidate a colossal spec short position? Is it just another example of the Brave New World of energy markets – and players beware? One odd thing – while WTI prices have soared and time spreads have exploded, the implied vol on WTI options has done nothing. It sits around the mid-range of where it has been for the past several months.
This spread chart shows that December WTI traded at a premium of ~$1.50 over March in early October – by Friday, the premium had soared to ~$4.25.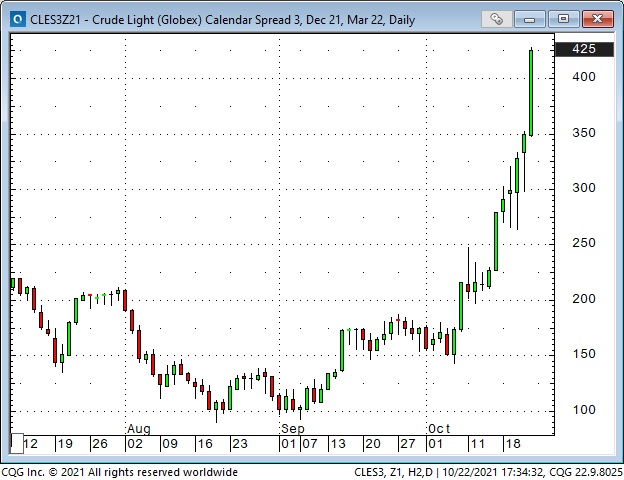 Copper spreads soar on physical shortages.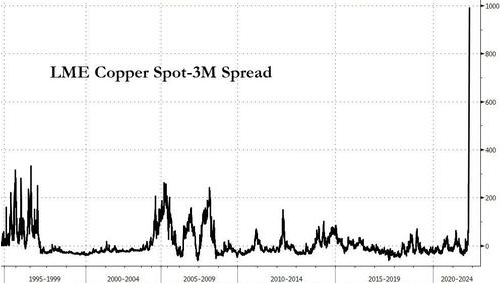 Interest rates are rising – as markets prepare for Central Bank tightening. Short rates are rising faster than long rates.
The long bond hit an All-Time low yield (high price in this chart) in August 2020.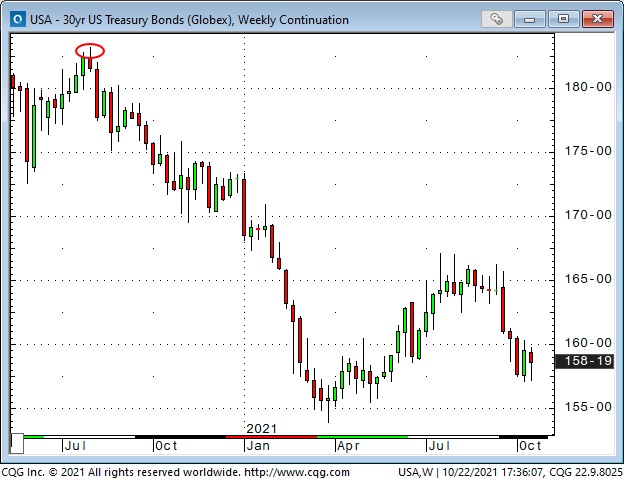 The monthly Bank of America survey of Fund Managers shows them to be the "shortest" of bonds in the survey's 20-year history.

Short rates are rising faster than long rates.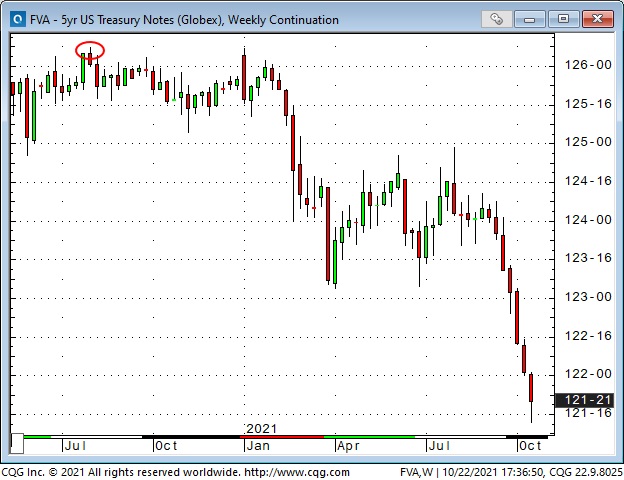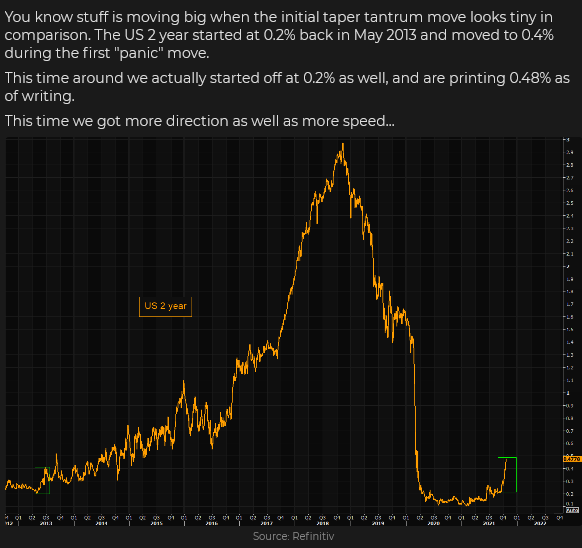 The US Dollar fell from one-year highs as "risk-on" sentiment floods the markets.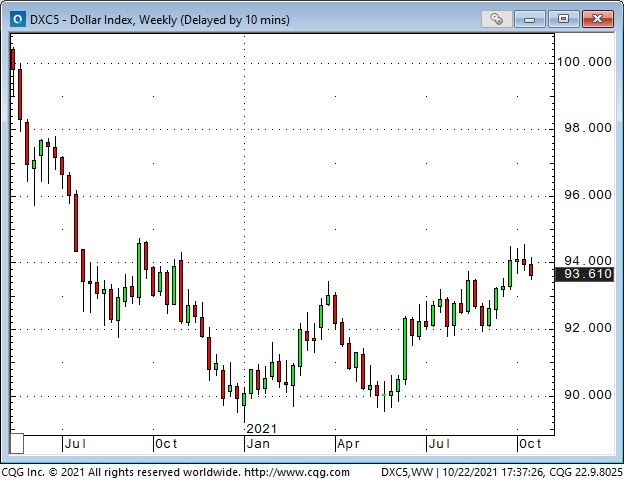 The Yen has been the weakest of the major currencies Vs. the USD – down ~10% YTD. The Korean Won is also down ~10% YTD.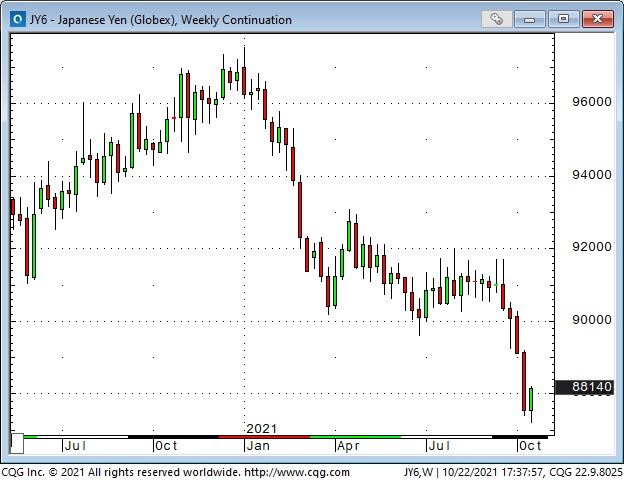 The CAD and the Rusian Ruble (commodity currencies) are two of the few actively traded currencies that have risen YTD Vs the USD. The CAD is at a 6-year high Vs the Yen. Is it as simple as Japan is a vast energy importer while Canada is a net energy exporter?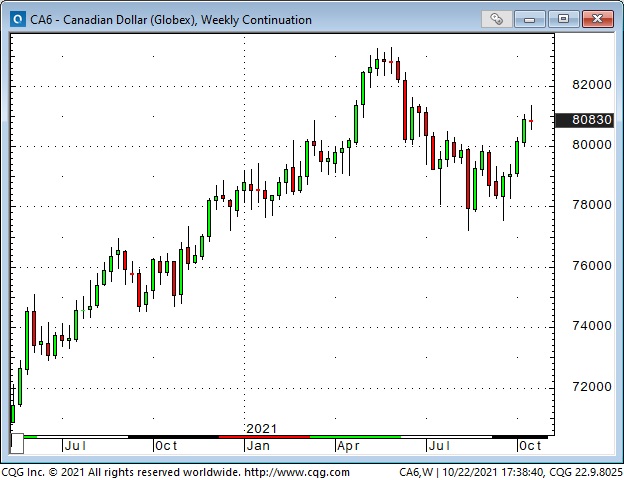 From the viewpoint of a cynical (or realistic) FX speculator, the price of CADUSD is a function of 1) the relative strength of the USD Vs. other currencies, 2) the relative strength of the commodity markets, especially fossil fuels, and, 3) the relative strength of the stock market. Think of the CAD as a cork floating in the ocean – where the "water" is the USD, the commodity market and the stock market. Canadian domestic inputs have relatively little impact on the CADUSD. CAD short rates are now premium to USD short rates, but that is not nearly as important as the Big Three factors.
Gold hit a 6-week high above $1,800 on Friday, but…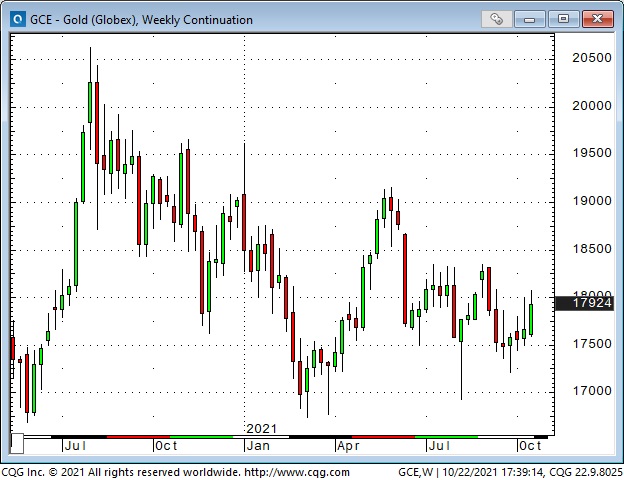 Gold was up >$30 early during the NY "floor" session on Friday, Oct 22, but tumbled >$30 in just over 30 minutes mid-day when Powell confirmed that the Fed would go ahead with their "taper" plans.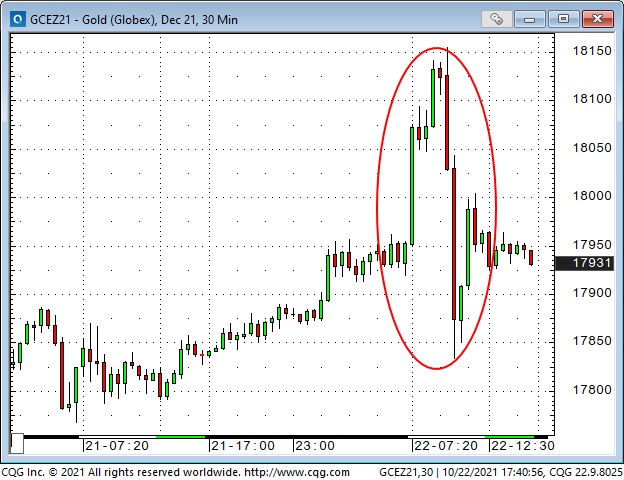 Gold and the USD have had a strong negative correlation YTD. In this chart, gold (pink line) is inverted. The blue line is the US Dollar index.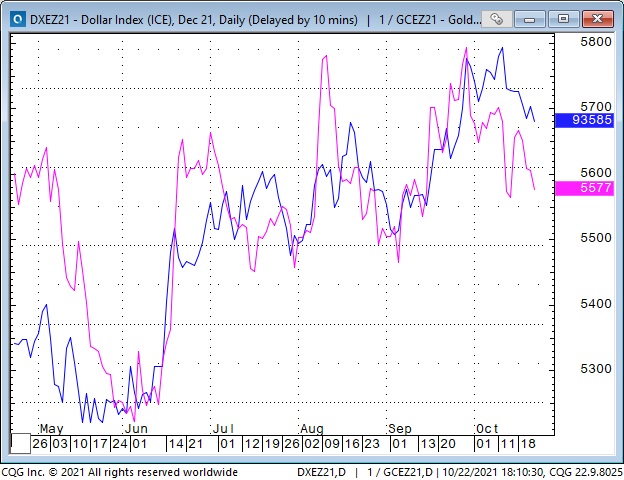 My short term trading
I started the week flat and did nothing for the first three days. Call it a mini-vacation or say I was patiently waiting for a setup I liked.
Over the past few weeks, I have been both long and short stock indices. I had closed out a long position late last week for a decent profit, and I was looking for the market to roll over this week. I did not short the market Monday through Wednesday because it was trending higher. I thought I saw a topping pattern on Thursday (selective vision), and I got short. I was quickly stopped out for a small loss. The same thing happened on Friday. I'm flat at the end of the week, and my P+L was down ~0.4% on the week.
On my radar
I'm well aware that the seasonal trend of the stock market is higher for the rest of the year – and that the stock market seems very capable of absorbing "bad" news and continuing to rally. I'm not a perma-bear (although I like to fade irrational exuberance), and I have made money buying stock indices recently, but – next week, I'll be looking for setup opportunities to short stock indices or other examples of speculative excess!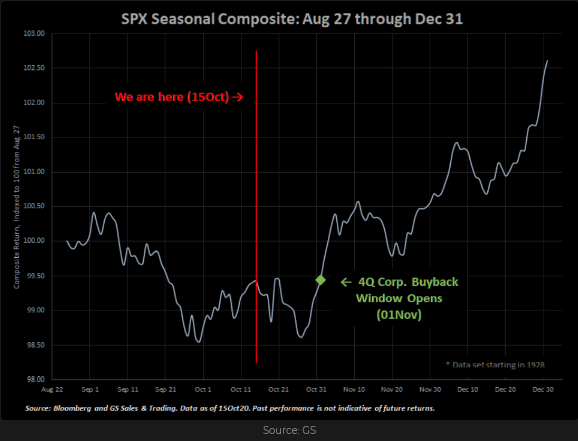 I interviewed Bill Fleckenstein years ago. He gave me some great advice about shorting: "I don't short markets because I think they're overvalued. Markets can easily get much more over-valued. I short markets that I have good reason to believe are going to go down. One of the best reasons they may be going down is that they have already started to go down. You want to shoot them in the back."
Thoughts on trading
I rarely write about crypto. I don't know what it is, but I'm curious about it in terms of market psychology. Is it, for instance, the posterchild for hot money seeking the new, new thing? Is it the perceived hedge against inflation for the millennial generation, as gold was for the boomers? Is it the modern version of tulipmania, or will digital currencies become the backbone of global finance?
Forty years ago, I was in the main trading room of (what became) one of Canada's largest bank-owned brokerage firms. They traded "everything" on that floor, but the guy I was visiting traded absolutely nothing but the CADUSD. He wasn't a market-maker; he was a prop trader, so he only traded when he wanted to. He seemed to be well respected by other traders on the floor, and he "took input" from everybody about what was happening in their markets, but he only traded CADUSD.
I'm interested in all kinds of markets; I'm a Macrotourist – but I don't "feel the need" to trade all the markets. I also don't "feel the need" to trade just one market. One of my core beliefs is that successful traders find a way to participate in markets that suits them.
I sometimes wonder if my Old School metrics for understanding things like value, or rate of change, are out-of-step with markets these days.
Quotes from the notebook
"In an inflationary world, you want to have a strong currency if you're an importer." Louis Gave, in an interview with Grant Williams 2021
My comment: I listened to that podcast a few days ago and immediately thought this quote was an example of cognitive dissonance. A strong currency would be great because it would make imports cheaper, but don't net importers ultimately get a weaker currency?
"It is easier to spend money than it is to make it. When there is no money coming in the door, LOVE flies out the window." My Grandmother 40 years ago
My comment: Forty years ago, commodity brokers were making lots of money, driving new sports cars, while stockbrokers were taking the bus to work, carrying their lunch in a paper bag. We used to have expensive lunches and would say, "It's only three ticks in the bonds," when we ordered another $100 bottle of wine. Easy come, easy go, but there are always consequences.
"We couldn't panic even if we wanted to…there were NO bids to hit!" Steve Leuer S+P floor broker during the August 2015 market break
My comment: If you're going to panic, panic early!
"If you want to make God laugh…tell him you've got a plan." Woody Allen (and other people)
"Everyone has a plan until they get punched in the mouth." Mike Tyson 1987
My comment: Making plans is a good idea, but since Anything Can Happen, be prepared that your plans don't work out.
"You have to assume that the money in your client's account is all the money he has." Peter Appleby, Branch Manager, ContiCommodity 1984 – in reply to a broker telling Peter that he was confident his client would come up with the money to meet his margin call.
My comment: When I was a branch manager, I always told my guys to never let a client use more than 50% of his capital to margin trades. Clients who constantly used 100% (or more) of their capital for margin purposes ALWAYS went broke – and took somebody down with them – usually their broker!
Subscribe: You have free access to everything on this site. Subscribers receive an email alert when I post something new – usually 4 to 6 times a month.
Victor Adair retired from the Canadian brokerage business in 2020 after 44 years and is no longer licensed to provide investment advice. Therefore, this blog, and everything else on this website, is not intended to be investment advice for anyone about anything.
It's time to take off the training wheels for Canada's economy, which is now looking overstimulated. That's the take from BMO's Douglas Porter, who sees stimulus coming to an end as early as this week. The Bank of Canada (BoC) is increasingly looking out of touch with reality. BMO, amongst others, now sees no justification for the level of stimulus the central bank is using.
The Bank Of Canada Is Out Of Step With Housing And The Economy
The Canadian economy hasn't recovered to its pre-pandemic glory, but it's not far off either. While it needs help to grow, it doesn't need this much help from the central bank. Canada's outlook doesn't look nearly as bad as it did at the beginning of the pandemic. However, little has changed in terms of the stimulus it's receiving.
Programs like quantitative easing (QE) are still used to suppress borrowing rates. The overnight rate is already next to zero (0.25%), but the central bank is driving borrowing costs even lower. By driving down rates, they're hoping to stimulate even more demand for goods. If demand for goods runs too high, the stimulus becomes inflationary. No one wins when inflation is elevated, since it consumes extra income, but not more goods.
It's tough to argue for more stimulus with record home and stock prices, and high inflation. Promoting more stimulus would be arguing for higher inflation at this point.
"… [the BoC's] current ultra-stimulative policies look far out of step with red-hot housing, record equity markets, decades-high inflation, and employment back at pre-pandemic levels," said Porter.
Our friends at Keystone Financial, Ryan Irvine and Aaron Dunn, will be hosting their last live webinars of 2021. If you are looking to fix your existing portfolio or finally take the plunge and build a simple 15-25 stock portfolio consisting of well-researched growth and dividend growth stocks – do not miss this event. You Need a Plan.
The live webinars on November 2nd @ 7:00pm & November 9th @ 4:00pm will explain how you can simplify, save on fees, with a focus on 7 great growth and dividend stocks to buy today! Stock recommendations include KeyStone's top REIT, top SaaS tech, top disruptive healthcare, top FAANG, top gold related, top dividend growth stock, and more.
These events sell out, so we encourage you to get your tickets early. CLICK HERE to get your Early Bird or VIP tickets.
And check out these returns from last year's DIY webinar. Can you afford not to hear this year's recommendations? ~ Ed.
You may have heard Ian Paterson, CEO of BC-based Plurilock Secuirty Systems on MoneyTalks discussing with Mike the booming business of cybersecurity. Ian also explained his company's strategy for world-wide expansion, and hinted a new acquisition might be in the wings. Earlier this week Plurilock announced their 2nd acquisition of 2021, their first was in the US, this one is in India. Take a few minutes and watch this update from Proactive Investors.

Buying a home in Nova Scotia may soon be more expensive for people from outside the province.
Premier Tim Houston has instructed Finance Minister Allan MacMaster to implement a deed transfer tax on any property purchased by individuals who do not pay taxes in Nova Scotia.
In a September mandate letter, the finance minister was also asked to impose a levy of $2 per $100 of assessed property value on every non-Nova Scotian taxpayer with property in the province.
The letter did not provide a timeline for implementation, though finance, and treasury board spokesperson Gary Andrea said in an email that "the department is working on it."
However, realtors believe the taxes — targeting investors in hopes of slowing down the market and helping maintain housing affordability for locals — will have a minimal impact and do little to address the market's main problem: lack of supply…read more.